PPC Advertising Plays an Important Role in Your Online Marketing Strategy
Let's face it. One of the most important digital marketing goals is having your site rank high on Google organically. Achieving a popular site takes much work and involves an in-depth knowledge of how websites function. It's a time-consuming and often unpredictable process. If you're not a web expert, have limited knowledge, or want to have your site ranked on Google to bring new traffic for a particular event, location, or season, then perhaps a Google Ads or pay-per-click (PPC) campaign is for you.
Before explaining how PPC works, it's essential to understand this type of advertising and how it fits into an overall successful marketing strategy. PPC stands for "pay-per-click" and is a form of advertising in which you set a budget for your ads on a given platform, such as Google or Facebook, and then only pay for the clicks you receive.
What Is PPC?
Pay-per-click advertising can be essential to your business's broader online marketing campaign. It can benefit specialized, time-sensitive campaigns to address competitors directly or break into new geographic markets. However, PPC advertising can be far too expensive, time-consuming, and temporary if used as the sole approach for your online marketing presence. Instead, companies should use it in a strategy that includes robust analytics, Search Engine Optimization (SEO), content and video development, and social media presence.
In this blog, you'll find answers to the following questions:
How Does PPC Work?
How Can I Get the Most Out of PPC?
Why Use PPC?
How Much Does PPC Cost, and Is It Worth It?
What's the ROI on PPC?
If you already use PPC and want to optimize your campaign, please request your complimentary PPC evaluation.
How Does PPC Work?
There are various similar types of advertising, such as pay-per-impression or pay-per-view; all of these work on the premise that you pay only when the intended interaction—views, clicks, or impressions—occurs.
The Big Four of PPC:
(A good result looks like an inversion or the letter X. Your cost per click goes down, and all these metrics go up.)
Impressions: Impressions refer to the number of times your ad is displayed on a webpage or social media platform. Essentially, an impression is counted each time your ad appears on someone's screen, whether or not they interact with it in any way.
Avg. CPC (cost per click): This metric measures the average price you pay each time someone clicks on your ad. For example, if you spend $100 on an ad campaign and it receives 200 clicks, your average CPC would be $0.50. This is an important metric to monitor because it helps you understand the cost-effectiveness of your advertising efforts.
Conversions: Conversions refer to the number of times someone completes a desired action after clicking on your ad. This could be filling out a form, purchasing, or signing up for a newsletter, depending on your specific goals. A conversion is the ultimate goal of your ad campaign, and tracking conversions helps you understand how effective your ads are at driving actual business results.
Clicks: Clicks refer to the number of times someone clicks on your ad. This metric primarily measures how many people interact with your ad and shows some interest. However, it's important to remember that clicks alone don't necessarily indicate success – you also need to track other metrics like impressions and conversions to understand your ad campaign's impact fully.
Pay-per-click (PPC): is one of many Digital Marketing Strategies, which includes various platforms and mediums. However, most kinds of PPC ad campaigns can fit into one of two categories: Google Ads and Social Media Advertising.
Google PPC Ads
How does PPC work on Google Ads? In a PPC campaign, you pay Google however much you wish to have them list ads for your site at the top and right of the organic search listings. When online users click on your ad, you pay the current Cost Per Click (CPC) from your budget. Once your entire budget has been depleted, Google ceases to run your ads until you replenish your fund. Furthermore, Google ad has the highest conversion rate (valveandmeter.com). There are several types of Google Ads: Search Ads, Local Search Ads, Display Ads, and Remarking.
Search Ads
Google Search Ads are the most commonly recognized form of pay-per-click advertisements based on a person's search behavior. These ads are displayed above or beside Google search results in response to what an online user searches. So, if someone searches for the product or service you offer, your ad can be the first thing they see, but through the PPC model, you only have to pay when they click on that ad.
To set up a Search Ad campaign, you must write your ad copy, select the keywords you want to be shown for and then set your daily budget. Of course, getting the most out of your ads is more complicated; there is an intensive process of management and fine-tuning to ensure you are getting the best possible return on investment (ROI) for your ad. We'll discuss some of those factors later on in this blog
Local Search Ads
Local Search Ads are not a separate type of PPC advertisement; rather, they are a specialized subset of the standard Search Ads. These location focused ads can target users searching for businesses or services near yours on Google or Google Maps. Like Search Ads, they are charged on a cost-per-click basis
By default, Google Ads will set your campaign live nationally. If you are a local business, ship to a specific area, or provide service (only) to a specific geographic location, it is a best practice to customize your Location Targeting in Google Ads.
Display Network
The Google Display Ad is not an exact pay-per-click model, but it is a similar process and reaches a broad audience. These ads can be text based, or media rich banners, and can be developed to display across any of more than two million websites and 650,000 apps. The setup process is streamlined, so you simply have to create your ad to fit your chosen format, choose which audiences you would like to reach, and then determine your budget.
Finally, you can choose from among a variety of payment options, depending upon your goal for the campaign; these include: cost-per-click (CPC,) cost-per-thousand-impression (CPM,) and cost-per-acquisition (CPA.)
Setting your budget, however, it is not a guarantee that your ad will display immediately. Rather, for each ad placement, there is an automated auction for each payment option. The winner is automatically charged the minimum amount necessary to outrank the next advertiser in the auction when the ad is displayed.
Pre-Roll Ads
Pre-roll ads are the most common form of video advertisement, and one we're sure you likely encounter every day. You find a YouTube video you want to watch (tutorial, review, etc.) but right before the video begins, there's an ad that plays. There are also "mid-roll" and "post-roll ads" (sole difference being when the ads appear as it relates to the video you clicked to watch.) These can be targeted by geolocation, native language, demographics, topics, and interests.
Remarketing or Retargeting
Remarketing Ads are shown to people who have visited your business's website or mobile app in the past. These ads can help you reconnect with visitors who have expressed interest in your products or services in the past, and can help to encourage conversions. These ads can be shown on the Display Network or as Search Ads, and are priced on an automatic bidding model. There are a few extra steps to set up, but it may be worth the dramatically increased click through and conversion rates to narrow your ad audience to those who have already made a connection with your business.
Social PPC Ads
While Google Ads might have a somewhat further reach (spanning approximately 98% of the web,) Paid Social Ads can offer unmatched audience refinement. The giant in the Social PPC space is, of course, Facebook, with more than 1.55 billion monthly active users (and, since Facebook owns Instagram, ads work seamlessly on both platforms.) For certain B2B industries, Linked In may also be a strategic platform to use, although it is significantly more expensive than Facebook.
How does PPC work on these platforms?
Facebook & Instagram Ads
There are a wide variety of ads available on Facebook and its associated platforms; these vary in format (from single images to videos) and in destination (where the ad will be shown.) You also have the option to define your audience based on basic demographics, location, interest, and more.
To get the most out of your Facebook Ads, you will need to install a Facebook Pixel, which allows the platform to collect data about visitors to your own site. Not sure how to define your audience? The Look-alike audience feature allows you to assess the commonalities of your current audience (such as visitors to your website) and target similar users with your Facebook Ads.
Another great use of the Pixel is Retargeting Ads. Like the Google Remarketing Ads mentioned above, Retargeting allows you to follow users after they've visited your website with targeted ads related to your products or services.
Finally, Facebook also offers a simpler approach; you can Boost Posts with the click of a button! This process quickly transforms a basic Facebook post on your business page into an advertisement that can be shown to the audience of your choosing. As with other Facebook Ads, you can also customize your budget, placement, and timeline.
LinkedIn Ads
If your business is aimed directly to consumers, Facebook is probably going to get you the best return on your Social Advertising investment. However, if you're in the B2B camp, it's worth considering LinkedIn Advertising.
Although you have the option to use text-only advertisements on LinkedIn, ads with images drive 20% more clicks, so it makes the most sense to do both! From there, you can choose your audience, segmentation by company, job title, skills, demographics, and more. These pay-per-click ads can be placed at the side or bottom of a user's LinkedIn homepage, or in the user's inbox.
A second paid advertising option within LinkedIn is Sponsored Content. This content shows up in the midst of your audience's news feed, which can significantly increase engagement. As with the text and display ads, you can select your target audience. Then, you simply have to set your bid, which is done at either a cost-per-click (CPC) or cost-per-thousand-impressions (CPM) basis.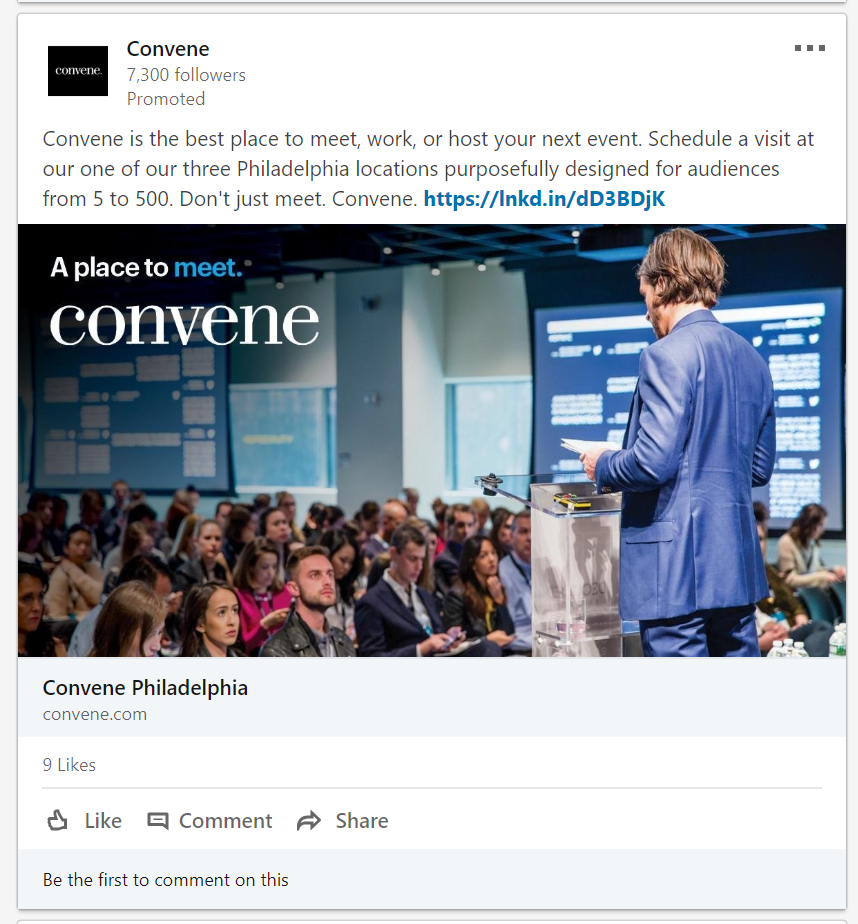 A Story of Success: Philadelphia insurance companies
Philadelphia Insurance is a global insurance giant that was struggling to get the most out of their paid ad campaigns. They had reached a plateau with moderate success, but couldn't seem to break through.
Farotech was able to step in and make a big difference by reorganizing their ad groups and lowering their costs per click.
This resulted in lower costs per click and increased ROI. The results were immediate and long-lasting, and Philadelphia Insurance has been seeing strong returns ever since.
How Can I Get the Most Out of PPC?
While a PPC strategy can be easy to implement, rushing into the process can lead to disaster if you don't know the basic guidelines. By looking at the four helpful tips below, you should be able to launch an effective PPC campaign that will bring new visitors to your site.
1 . Create Goals for Your PPC Campaign
Many businesses and marketing teams go into pay-per-click advertising without having a clear sense of their goals and expectations. This can lead to wasted time, money, and significant frustration. To avoid this, make sure your marketing team can answer each of these questions before beginning any PPC ad campaign.
Who are you targeting with this campaign?
Always remind yourself who you're aiming to reach through paid search. When choosing keywords and creating ad copy, select the words or phrases your audience would search for and write a copy that speaks to their needs. Always be sure the content on your landing page logically aligns with these keywords and the ad text to ensure a high quality user experience and to maximize your ROI. Put yourself in the visitor's shoes. Would the keywords and ad text catch your attention and give you helpful information?
What outcome do you want?
Determine what you would like your user to do once they click on your paid search ad. Include this goal as a call to action in your ad text. Drive visitors to a landing page that easily leads them toward this goal. This outcome should also determine the type of ad you choose. For example, certain styles of Facebook Ads are designed to drive traffic to a landing page, while others are engineered to maximize visibility, but offer little in the way of conversions.
How will you know the PPC Campaign is a success?
Ensure you have set up a way to measure success before launching your campaign. Check your tracking URLs and pixels, so you will know which traffic and activity is coming from PPC, and which is direct or organic traffic. Ongoing analysis of your campaign metrics will reveal ads and keywords you may want to pause, rework, or promote with additional resources, depending upon their performance.
2. Establish An Easy-to-Use Campaign Structure
The two words to keep in mind here are Relevant and Simple:
Relevant
On both Google and Social PPC ads, you have the option to group together ads. Although it may be tempting to try to get as much of your message into an ad set as possible, try to stay focused. This way, you'll get the most out of your targeting options and can provide relevant information to each segmented audience. The higher relevance, the greater your audience response.
Simple
Although a PPC campaign is only one part of your overall marketing, it requires daily monitoring and management. Ensuring your campaign structure is intuitive and manageable will make monitoring your campaign more effective and will allow your team to better identify efficiencies and inefficiencies. If your set up is too complex and your team doesn't have the bandwidth to keep up, you will almost certainly end up missing out on potential ROI.
3. Ditch the Default Settings
Both Google Ads and Social Advertising platforms are set up to try to be as navigable as possible. With tutorials and a variety of pre-set options, it may seem like a basic three step process: create your ad, choose your target, and set your budget. Then, you're good to go! Right?
Although that may get your ad campaign off to a decent start, the reality is that it takes some fine-tuning to get the most bang for your buck.
For example, by default, Google Adwords opts all campaigns into the full Google Network. This network of sites includes Google.com, partner sites such as AOL.com & Ask.com, and Display Network sites. Opting out of the Google Display Network is a best practice if you are just getting started.
The Display Network will incur thousands of impressions by displaying your ads across thousands of sites. If you are working with a constrained budget, the Google Display network can deplete your budget quickly and compromise your visibility on more relevant sites like Google.com.
[NOTE: The Display network can be effective with carefully selected keywords and ad text designed specifically for this type of ad placement. It is always best to revisit this tactic once you have garnered initial learnings from the Google Search network.]
A deeper understanding of your target audience, gained through buyer persona assessments and website analytics, can help your team to navigate these options. Additionally, you may consider seeking a partner in the online marketing space who can help you navigate the seemingly endless options and create a campaign that will be the best asset to your overall marketing campaign.
4. Understand the Factors of Your Success
No matter how big your business is, if you are going to incorporate PPC advertising in your marketing strategy, it's important that you understand what factors play into the success of a campaign. This will help everyone to set appropriate goals and expectations, and make adjustments that truly lead to success.
Below are four key factors that can affect how often your ads are shown, and how effective they are in reaching your goal:
Keyword and Ad Relevance
Make sure that you have selected keywords and ad language with your target audience in mind. For Google Search Ads, there needs to be a close, obvious connection between the keywords you're targeting and the copy of your ad.
Landing Page
Although we've largely discussed the nature of your PPC ads, perhaps even more important is where these ads direct traffic. Your landing pages need to be optimized to be clearly related to the ad and have a direct and relevant call to action. In our mobile-first world, these also need to be optimized for a variety of devices!
Quality Score
Although this particular factor is unique to Google Ads, it deserves to be highlighted. This score is Google's rating of the quality and relevance of all of the parts of your campaign: keywords, ad copy, landing pages, etc. The better your quality score, the more ad clicks you can get, at lower costs. It pays to play by the rules here!
Budget
Not only do you need to consider your own budget, but also the potential budgets of your competitors. This is especially true whenever there is bidding involved in the ad display process. For example, on Google Ads, keywords cost more or less depending upon the demand for them. Highly valuable keywords in your industry may have a high cost-per-click; if your biggest competitor has a large budget, they might outbid you at every turn.
Why Use PPC?
"98% of searchers choose a business that is on page one of the results they get." (BrightLocal)
"64% of people click on Google ads when they are looking to buy an item online." (Wordstream)
"72% of AdWords marketers plan to increase their PPC budgets." (Search Engine Watch)
If you're looking at your overall marketing budget, and wondering if it makes sense to allocate a portion of that to PPC advertising, you're not alone. Many CMOs see statistics like those above and wonder if they, too, should make an investment in pay-per-click. After years of partnering with businesses like yours, we at Farotech have developed some guidelines of when it does, and does not, make sense to pursue PPC. Of course, these are simply guidelines; any decision should be made with the full context of your online presence, goals, and resources.
When It Makes Sense To Use Pay-Per-Click Advertising
In certain scenarios, PPC Advertising may be an important element to achieving your marketing goal, especially in cases when you want the fastest results possible.
To Supplement Your SEO Efforts
It's no secret that SEO takes time. From the day you start writing and optimizing your website, it may be months before you begin seeing competitive rankings for your target keywords. Supplementing this process with a PPC advertising campaign can help you fill in that gap. As soon as your ads are live, they'll appear on your targeted platform, and you can start getting instant results, including brand awareness, clicks to landing pages, and even conversions.
To Build Awareness of New Products or Services
SEO works well when you target keywords that your buyer persona would search for online. However, new products and services sometimes face the problem of that target audience not knowing what to search for. While you can use SEO to target keywords higher up in the Sales Funnel, PPC ads help you take an awareness-building message right to your target audience.
To Beat Well-Known Competitors
If you are just beginning to establish an online presence for your business in a space already dominated by large companies, it's going to take some time to carve out your own space on the Search Engine Results Page (SERP.) Fortunately, however, ad placements cover up to 85% of the space above the fold, and 80% of search results contain Google Ads ad placements. This means that, even while you are working to establish your place in the organic results, you can buy visibility for those keywords that your larger competitors may be targeting organically.
If You Are A Non-Profit
Nonprofits already contend with the challenge of limited budgets; often the price of competitive SEO can be out of reach. Fortunately, Google Ads can help. Through their Google Grants program, Nonprofits can apply to receive $10,000 of in-kind advertising per month through Google Ads.
When It Does Not Make Sense To Use Pay-Per-Click Advertising
Although PPC Advertising can be a valuable part of your overall online marketing campaign, there are certain scenarios in which it is not likely to bring you the return on investment you are hoping for. These include:
To Build A Foundation For Your Online Presence
As the name implies, PPC advertising is pay-to-play. This means that as soon as you deplete your budget or end your ad, your first page online presence disappears. This starkly contrasts with SEO, which builds and accumulates over time, so that you always have the work you've invested in. Although PPC can be great for reaching certain, short term goals, it should never be the sole foundation of your web presence.
If You Are Competing with Businesses with MUCH Higher Budgets
Many forms of PPC work on a bidding system; this means that your success depends not only on your ads and budget, but also on the ads and budgets of your competitors. If you are thinking of running ads for specific keywords relevant to your industry, take a look at who else is using PPC advertising in that space. If you are unable to compete with, or at least match, the budgets of your competitors, your ads may end up having a significantly limited audience.
If Your Industry Has Strict Advertising Rules
There are certain products and services which are prohibited on pay-per-click advertising platforms. Even apart from predictable proscriptions (such as recreational drugs, weapons, and counterfeit goods) certain industries and countries have additional limitations. When planning any campaign, be sure to review all advertising policies for your industry and the platform on which you want to advertise.
If You Do Not Have The Bandwidth to Actively Manage Your Campaign
Although platforms such as Facebook and Google have worked to make PPC marketing as user friendly as possible, that doesn't change the fact that managing your campaign well takes a lot of work. Although you could "set and forget" your campaign, it is only through active management that you will get the highest possible return on your investment. If you do not have a member of your team who has the time to monitor and adjust your ads weekly, or even daily, consider seeking out a marketing partner who could help.
How Much Does PPC Advertising Cost? Is It Worth It?
As discussed throughout this blog, there are a number of factors that contribute to your PPC campaign budget, and the overall success that you can expect from it. Important elements to consider include:
Geographical Location of Target
On most PPC platforms, you can select where you would like your ad to be shown. Typically, the more you narrow down your audience, the more expensive your cost-per-click (CPC) will be.
Industry & Target Keywords
The level of competition will vary based upon your industry and the keywords that you choose, and this directly affects the potential cost-per-click (CPC) on your keywords. For example, some keywords can cost as low as $0.05 per click, others can range as high as $50 or more per click. Most companies, though, have an average CPC of $1 to $2 on Google's search network.
Intended Action
Do you want people to see your ad, click it, or fill out a form? Your specific goals for the ads will also affect the overall price of your campaign. For example, on Facebook and other social media advertising platforms, impressions will be on the less expensive side, while a click or visit to a specific landing page will be more expensive.
In addition to these large cost factors, be sure to keep in mind that the copy, design, and combination of your ads and their associated landing pages can affect both the cost of your ads and how often they are shown.
How Long Does It Take To See PPC Results?
There is a short and long answer to this question. In short, you can begin seeing results as soon as your first ads go live. You have the opportunity to get Facebook impressions or Google Ad clicks that same day.
However, there is a difference between getting results and getting optimal results. Typically, a pay-per-click advertising campaign takes several months of careful management and fine-tuning before all of the factors—from target audience size to quality score—are optimized to bring you the best possible ROI. So, do not assume that the results you see in month one of your campaign are indicative of the overall possibilities of PPC for your business; it may be three to nine months of adjustment before you see the optimal results from your campaign.
What Is the ROI for PPC?
When used effectively, PPC advertising can be an incredibly effective way to reach a new audience and bring in new customers. In fact, PPC visitors are 50% more likely to purchase something from a site than organic visitors!
ROI for Google Ads
According to Google Ads, businesses typically make an average of $2 in revenue for every $1 of Google Ads spend. Additionally, Google Ads estimates that businesses receive an average of five clicks on their organic search results for every one click on their ads. Based on these two assumptions, Google offers this conservative estimate:
"For every $1 a business spends on AdWords, they receive $8 in profit through Google Search and AdWords. Thus, to derive the economic value received by advertisers, we multiply our AdWords revenue on Google.com search results in 2017—what advertisers spent—by eight."
So, although results may vary significantly based on your industry, location, and the quality of your ads, you can expect to see an ROI approximately eight times your ad spend.
ROI for Social Ads
Calculating your ROI for Social Ads like Facebook is less straightforward. During ad set up, you have the option to choose a wide variety of marketing objectives. For example, Facebook offers offers 11 options, as seen below:
Throughout your campaign, you can monitor how many impressions, likes, shares, clicks, etc. Just like with Google Ads, you will need to decide what each interaction is worth to your business.
Although the ROI is more challenging to calculate, social advertising is still worth considering for your business, especially considering the increasing role it plays in the lives of your potential customers. Just check out the latest potential reach on some of the top social channels:
In 2018, Facebook had 1.47 billion daily active users and 2.23 monthly active users.
Instagram surpassed 1 billion monthly users in June 2018.
LinkedIn had 562 million members as of 2018, with 40% of these members visiting the site each day.
As of 2018, there are 369 million active Twitter users.
Conclusion: PPC and Digital Marketing
Here at Farotech, we don't believe in "silver bullets." So, we can say with confidence that PPC should never be the whole of your digital marketing campaign. However, we do believe in comprehensive marketing systems, in which PPC can play an instrumental role.
With a clearer understanding of how PPC works, your next step should be to ask: How does PPC work for my business, in the context of my overall marketing campaign?
To answer this, ask yourself:
What am I hoping to achieve through PPC? Does that match the capabilities of the platform?
How does my industry typically perform in PPC?
What is my budget? How does this compare to my goals and my competitor's budgets?
Does my team have the bandwidth to actively manage my campaign, especially during the first three to nine months?
How else am I building a highly visible, high-converting online presence through SEO and Inbound Marketing?
If you're struggling to answer any of these questions, don't hesitate to reach out! Farotech partners with businesses like yours to provide Social and Google PPC Advertising, as well as SEO, Inbound Marketing, and Web development. Learn more, or schedule your own complimentary PPC consultation by contacting us today.